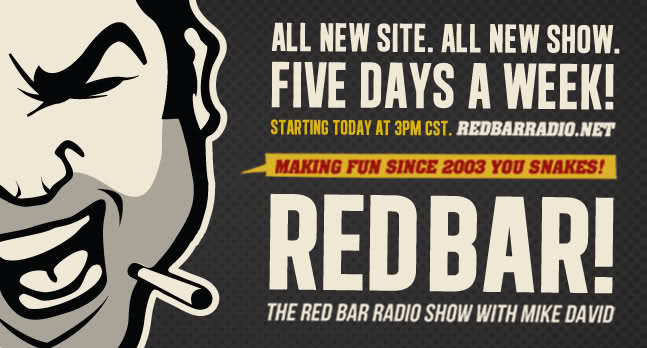 For the Showtimes of our lives …. and HBO. The fact that the previous sentence is even recognizable by you, blows my mind. Today, we will all get to hear those words again! On August 5th, 2011, our show was taken from us. We were left with nothing to laugh along to, and no information as to why. Rumors were made, speculations cast. Old creeks….drained. Red Bar was gone, and most thought that they knew why. No one did. Not even me. (I'm Mike). The next two months to follow were spent putting together a very complicated puzzle. Not only is this puzzle complete, but we've glued it to the fucking table!
The Red Bar Radio Show returns today at 3PM CST with an ALL NEW WEBSITE, ALL NEW BARMY, ALL NEW LIVE SHOW, and an ALL NEW STORY. I figured if you're gonna be forced to wait, then we might as well make it worth your while. Your new Red Bar has everything you've always wanted, including a brand new episodes waiting for you EVERY. SINGLE. DAY.
I cannot wait to talk to everyone this afternoon. Today, you will hear something unbelievable. Will you believe it?
Here is today's schedule (cross Obamas fingers):
1PM: NEW RBR WEBSITE GOES LIVE – UNFINISHED, BUT USABLE. WE KNOW.  https://redbarradio.net
2PM: THE PRE SHOW STARTS. – https://redbarradio.tv
3PM: SHOW SIGN! THE SCARIEST SPOOKTACULAR OF ALL! Ryan Durdin will be my cohost today. We will have a live studio audience.
5:30PM: PODCAST WILL BE UP, ALONG WITH FULL VIDEO OF LIVE SHOW FROM TODAY ON OUR HOMEPAGE.
AFTER THAT: WE WAIT.
Today should be an amazing day.
Also, we have about 4 seats left in our studio audience for this afternoon. Want em? You have to be here today at 2:30pm! Email [email protected] to request a ticket! I also desperately need cigarettes and coffee, so if you're in Chicago….. email me.
Can't wait. See ya soon.
MIKE
---