READ THIS IN THE NICE, PRETTY, NEWSLETTER VERSION: http://eepurl.com/n5UBv
SPECIAL SECRET SHOWS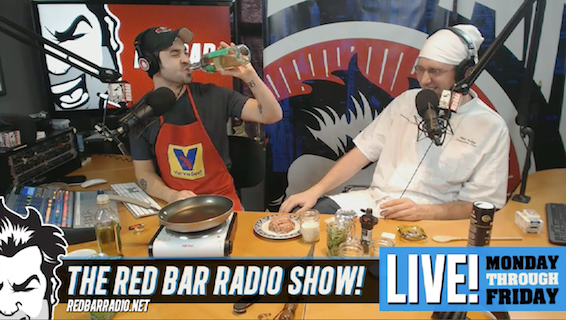 Did you catch our special Saturday cooking show & after-show? Chef Dadley came over and we made a very stunning dish! We also went on to do a "secret show!" The first 2 hours of audio is up for free on the website and public feed, and the video version and second 2 hours of show is up on THE BARMY. Have you checked out our Barmy thing yet? Probs not. Your support is what keeps this show going. Make this month the month you decide to check out all that we have to offer in THE BARMY. Sign up and get instant access by going to https://redbarradio.net/barmy !
TOUR DATES & A SPECIAL OFFER TO VANCOUVER FANS!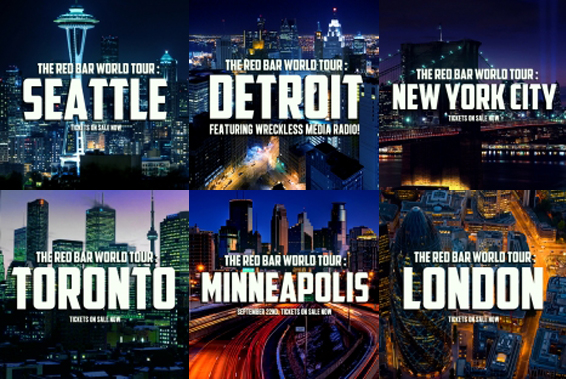 Upcoming Shows: Seattle – Aug 11, Detroit – Aug 18, NYC – Aug 25, Toronto – Sept 8, Minneapolis – Sept 22, London – Nov 4
Tickets for the above shows/cities are available now, and YES, we would love if you bought them in advance! We're constantly adding more dates and cities every week, hopefully coming to 22 different cities within a years time!
Seattle is our next show, on August 11th, and I wanted to give out a special deal to all of our Vancouver fans. Based on our survey results, and comparing that to how many people actually buy tickets for the shows, we most likely WILL NOT be doing a Vancouver show. However, Vancouver is sooooooo close to Seattle, WA. I would like to offer all of our Vancouver fans a special discounted ticket, so that you can come see us on August 11th in Seattle!
If you're in Vancouver, and want to take advantage of this deal, all you gotta do is send an email to [email protected] letting me know! You will then be sent a coupon code for dirt cheap tickets to the Seattle show! Lets pack this thing out! I have some extremely special things planed for this one and you definitely don't wanna miss it live! We also have a nice hotel suite for the after-party, which you will all be invited to!
Get tickets to Seattle and all of our other shows by going to https://redbarradio.net/tour (if in Vancouver, email me!)
TOUR POSTER IS AVAILABLE FOR SALE ON OUR STORE!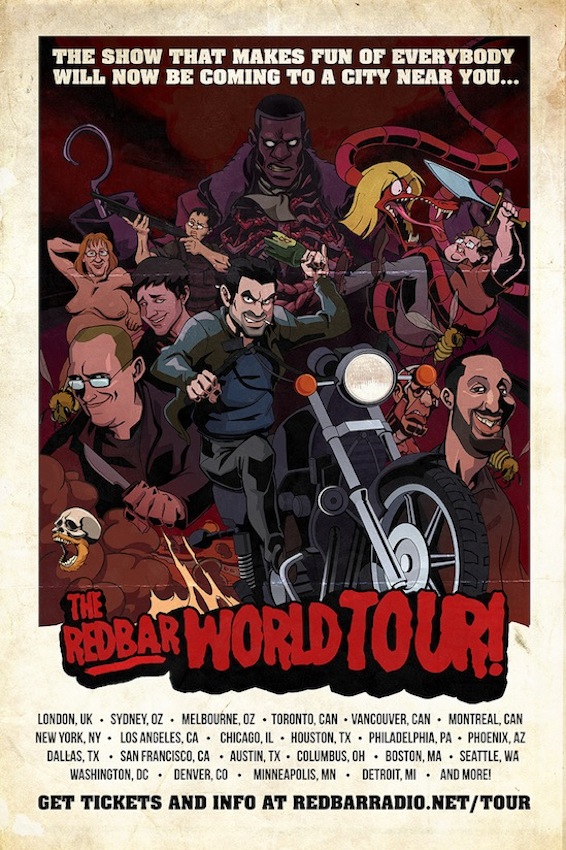 Ok, you win. Due to popular demand, the RBR WORLD TOUR POSTER is now available for sale on the Red Bar Radio store! We just couldn't't deny all of the requests Get yours now! In stock, and should ship asap! Oh, so we're probably not gonna be selling these at the shows anymore. It's just one less thing I gotta lug with me and worry about. https://redbarradio.net/store
SHOW TIMES & OTHER STUFF.
So I talked about this on one of the most recent shows or after-shows, I forget which, but from here on out, we currently do not have a live show schedule! What does that mean? It means that some days we will do a live broadcast at 3pm, some days it will be on at 7pm. Some days it won't be on. Some days it will be on twice. Confusing? It's not as crazy as it sounds. Every day will will update our social media sites and website with the start time of the live show. If you're one of our Facebook or Twitter friends, you'll most likely see these while scrolling your feed. None of the show times will be a secret, so as long as you check one of our sites once a day, you'll most likely be able to keep up.
Why are we doing this? Well, the shows are better when I'm in the mood to do them. Forcing a schedule turns it into a job, which it is, but the shows are better when there is a reason or purpose to do them. Co-hosts are available at all different days and times as well, which makes it tough to stick to a 3pm schedule. So instead of setting my self up to fail (get yelled at by listeners,) we're gonna try this out for a while. You'll end up getting the same amount of shows on the podcast feed, with hopefully something new on there every week day.
Never miss a show by SUBSCRIBING to the podcast. I suggest using iTunes: https://redbarradio.net/itunes
MUAH!
MIKE
---