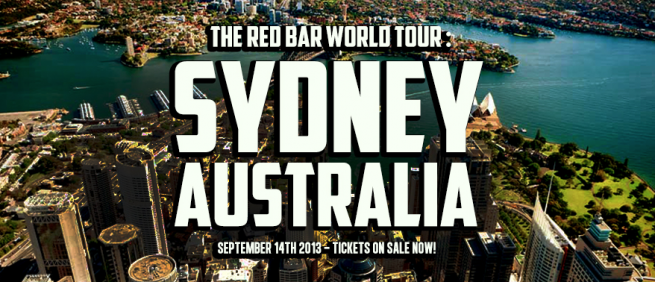 Red Bar is off to Sydney Australia until September 18th! If you purchased a ticket for Red Bar Live in Sydney Australia, check your email inboxes today! Ticket emails along with venue location have been sent out! Don't see the email? Check your junk/spam folders. If you don't have an email from us, please email us at [email protected], and we'll get one to you.
Also, please make sure we have your mobile number. Most of you entered it upon check-out when purchasing tickets, but in case you didn't please email [email protected] and we'll add you to the list! This is important in case of last minute changes, as well as keeps you up to date with all of the parties/meetups while we're in town!
Again, we'll be in town from Sept. 12th-18th. I leave tomorrow at 9am, and arrive in Sydney at 6AM on Thursday the 12th. I won't be able to check in to the house until 2pm, so if anyone wants to hang that day, message me!
Haven't gotten a ticket yet? Grab yours at https://redbarradio.net/tour
See ya in Sydney!
---