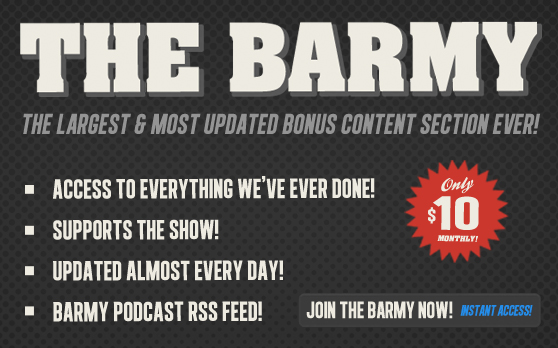 At last, the all new BARMY SECTION is ready! If you're not up to speed, the BARMY is our bonus content section of the website for premium members only. It's the number one way to support the show, and gives you access to EVERYTHING WE'VE EVER DONE! Every single episode dating back to 2003, prank calls, after-shows, secret shows, videos & more! We will also be posting the FULL VERSIONS of our video shows each day. 90% of the content on the Barmy is not available ANYWHERE else. The other 10% is public stuff, but we threw it in there just so you have everything in one place!
What's new in this version of the Barmy? EVERYTHING. From the look, the user friendly layout, the search features – everything has been built from scratch to give you the best possible user experience. We've even set up a BARMY RSS PODCAST FEED, so that you can subscribe and receive your Barmy content the minute it comes out, just like you do with any other podcast!
When you sign up for the Barmy, you're INSTANTLY given access and a link to the rss feed! No waiting, no hassles. Content is added 5 days a week! Woah! You'll never run out of Barmy content, unless you are a maniac.
The Barmy is the show's main source of funding, so if you love the show, don't pass up joining! We work our asses off putting out content 5 days a week, and in order to continue doing what we do, and get the show to where it needs to be, we gotta make sure we can pay the bills!
This is the ULTIMATE bonus content club! Don't believe me, well take a look for yourself! The new Barmy can be browsed by anyone, regardless of if you're a member or not! You can check out all the content we have in real time, you'll just have to sign up in order to get it to play or download. Check it out for yourself: https://redbarradio.net/barmy

STUFF YOU SHOULD KNOW ABOUT THE BARMY:
– Currently the Barmy is still in "Beta" mode. We've got a ton of work to do getting up content, and a whole lot of bugs to fix! We've got a little over 3000 files to upload, link up, describe, and tag. We've been working on this day and night, but still have a bunch more to do! There's more than enough content up so far, but don't fret if you don't see all of it just yet! Hopefully, it will all be up by the end of the week!
– Did you purchase something off our Amazon Wishlist? If you did, you're entitled to some FREE BARMY! Hang tight! We're working our hardest to get your custom discount codes created, and we will be sending out emails to those people expecting free Barmy. Hopefully later today or tomorrow you will have instructions sent over to you. You WILL need a credit or debit card upon signup however. Our system requires all users to initially sign up with a credit or debit card. Your card will not be charged if you have a discount code for free Barmy. It's just how these things work nowadays!
– The Barmy rss podcast feed is up and running, and seems to be working perfectly. Just a heads up, VIDEOS will not be on this feed! All audio will be on the feed, and you'll see that every day for the next week or so, chunks of content will continue to be added until we get everything up. Initially you will only see what is up so far, so don't freak! All of the videos are embedded on the Barmy site. The files are just too large to upload to the feed, and would take too long for you to download anyway. Also, since video formats are constantly changing, having them hosted on Youtube is the smartest option. Don't worry, the videos are only visible to Barmy members! Don't think that just because you see Youtube players on our site that it means everyone can see them! Only you special people can!
– Some people from countries outside the U.S. have had issues when trying to sign up. If you are one of these people, please email [email protected] with your issue, and someone will get working on it right away! Again, we are working out all the kinks this week, and we'll make sure that whatever your issue is, it gets solved. This goes for anyone who's card is declining for unknown reasons as well. We've had a few issues with that. Let us know!
Ok, so now that you know everything about the new Barmy, go check it out! You won't be disappointed! https://redbarradio.net/barmy
OTHER STUFF YOU SHOULD KNOW:
THERE WILL BE NO LIVE SHOW TODAY! OH NO! I'm taking the day "off" to catch up on some technically aspects of the show. We just received our new studio system from Presonus Audio, and I will be working all day with the engineer from Presonus to get it set up so that it's all working perfectly! I will let you know all of the details about our new artist endorsement we received from Presonus, and all the cool things we'll be doing together in the near future! The setup is going to take around 4-5 hours, so I just wouldn't have time to fit it in, and Presonus is only available during the day! (We will be using the Presonus StudioLive 16.0.2)
The Canon 60d camera that Daniel from Australia bought us is also coming in today, and I want to get that all set up as well, so that on Thursday, we will be all set with new video, and new audio! This is gonna be the best looking and best sounding podcast ever!
Don't get bent out of shape, I will be on two other podcasts this week…..

EVENTS:
TONIGHT – 11/16/11 – I will be on the OFF THE AIR LIVE show! 7pm-9pm CST – TUNE IN BY GOING TO http://ustream.tv/channel/off-the-air-live (This will be on Barmy the day after)
THURSDAY – 11/17/11 – I will be on AWKWARD MOMENTS with COLLIN A. BULLOCK – A comedy podcast out of Chicago – Not sure if this will be live. The website is http://awkwardmomentspod.com (I will make sure you hear it one way or another)
Ok, I think that's enough for now! Thanks again to everyone who's made this return the best thing that's ever happened to me! It's really been awesome.

PLUGS:
– Have you checked out our Amazon Wishlist? We've had the wishlist up for about a month now, and many of you have purchased things off of it to help the show get back up and running. When you purchase something from the gift lift, you get back double the value in Barmy, and some of the items even give you autographed memorabilia from the old studio! Check out this wishlist, as it's only gonna be up for a week or two longer! CLICK HERE FOR THE WISHLIST!
– Our web developer has put in thousands of hours of work building our new site and working on all things tech for Red Bar. His computer is old, shitty, and a waste of his time. Lets get him a new one! Help our developer Cameron, get the computer he deserves! Make a donation today! http://cameronmalek.com
MUAH!
MIKE
---